Remembering Richard Coleman
A few weeks ago, WT lost one of its most active, talented, and well-respected members, Richard Coleman. Any of our patrons that have seen a show at WT over the last 10-20 years will have seen his work on stage, with his talents as a scenic painter most often being deployed to design and paint all the floors of our sets. He also regularly helped design and coordinate sets, with recent highlights including the intricate and celebrated set for Hobson's Choice and earlier in the season, The Government Inspector.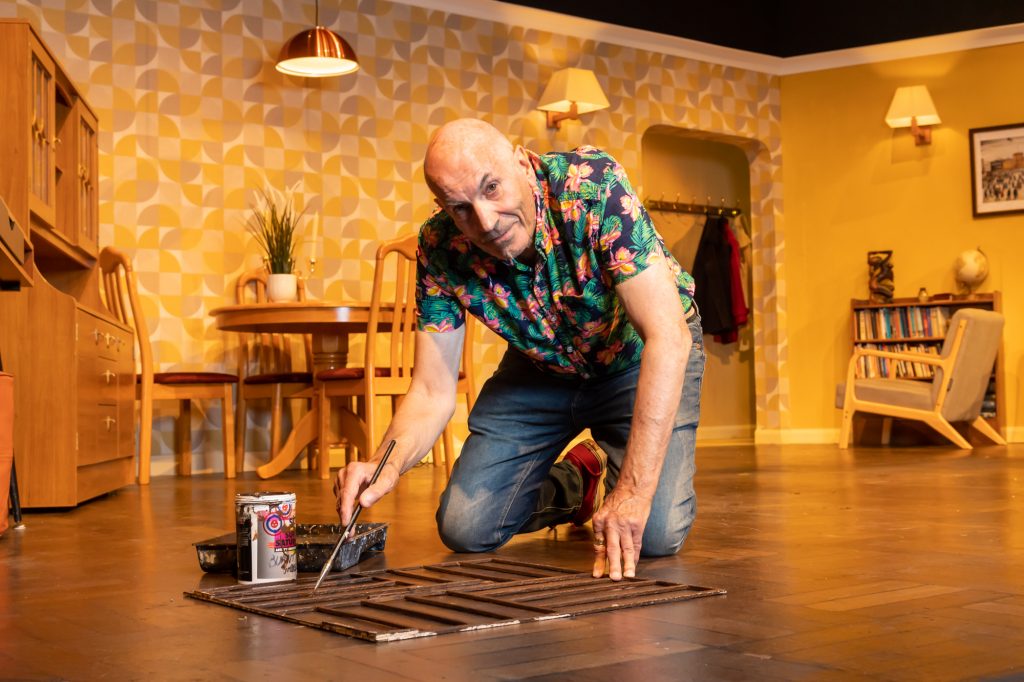 Richard's passing will have such an impact on the whole WT team, but none more so than in our team of set builders. Below, they offer their thoughts on years of working alongside Richard at WT.
I have known Richard for over 10 years since I joined the set building team in 2011. Richard was a very sociable character and loved being with people. He would talk about his dancing clubs both here and in Spain and his frequent visits to his property out there.

We had many banter sessions about his one fault, being a Chelsea fan! As a Spurs fan I was usually on the back foot there!

His artistic skills were magnificent. Many won't know that the majority of the floors in WT productions were painted by him. He could transform the stage into Elizabethan flag stones, wood block paving, floor boards, Victorian tiles, modern tiles etc etc. It would usually take him 2 days to do this, often working alone on stage with his music playing in the background!

As production manager for Hobson's Choice he and I were in regular talks about his set design to transform the stage into 3 very different rooms and designing the set changes so required. All that had to be achieved in 2 weeks. He did it, and I'm so proud that his finale was such a special piece of work he created.

Richard also directed and designed Pantomimes and plays at Twyford. I recall having fun with him driving around filming a backdrop for Mr Toad's drive! He was also an actor and I recall working with him on Arsenic and Old Lace. Richard's skills will be missed by the theatre. But most of all we will miss his company and warm, cheerful personality.

Neil Hodgson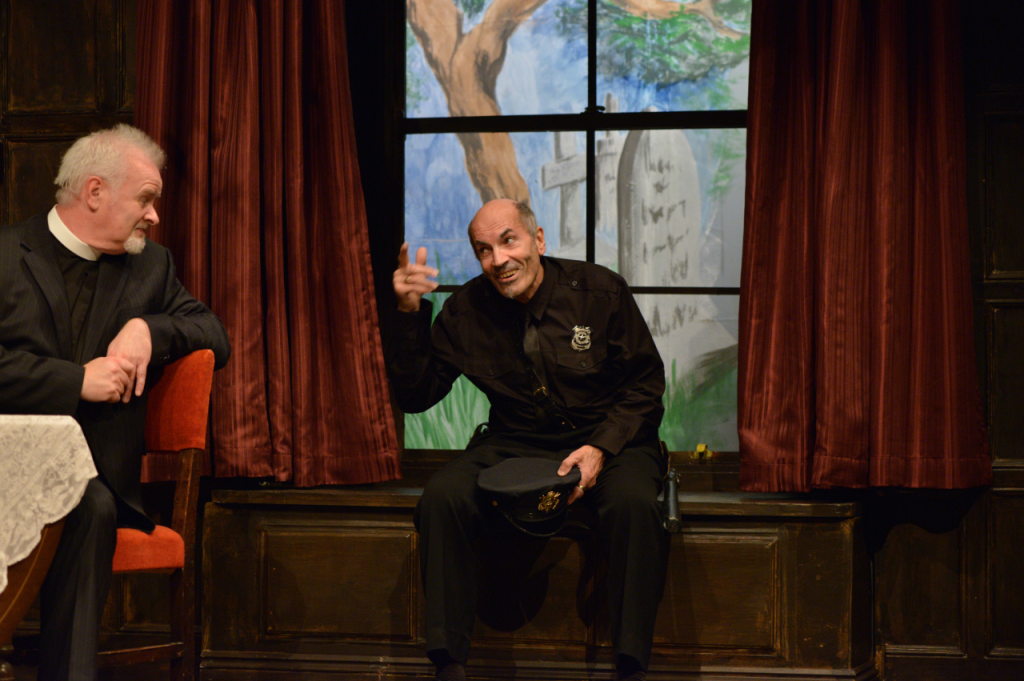 Wendy and I have known Richard since he joined Wokingham Theatre many years ago and I have worked with him on more sets than I can remember. He was very creative, hard-working, reliable and fun to be with. He also enjoyed an occasional onstage appearance and helped out with front-of-house duties. In fact he would cheerfully tackle most things that needed doing. Despite his health problems he was inspirational in refusing to give up and it is a tribute to him that his set for 'Hobson's Choice' was one of WT's best. He is a great loss to all his friends and to our Theatre.

Keith Graham
I don't know what brought Richard to WT as he was heavily involved with Twyford Players and he stayed with them until last few years. His forte was pantomime sets which he loved to do and of course we at WT did not give him that opportunity.

He did a bit of acting with us but his interest was in the set building side – for both groups. When he eventually retired he spent most of his time with us and took up set design too which he was particularly good at providing imaginative and attractive sets. He was becoming quite sought after of late and was trying to decide what plays to do and what not to do after Hobson's Choice.

His main talent however was painting the stage and I recall "appointing" him chief stage painter which he happily accepted some years ago.

His devotion to it was such that he spent many a day on his own (often on hands and knees) painting patterns, floorboards, stone flags – you name it he was game to have a go. The Victorian hall tiles he did for
Things We Do For Love brought much praise.

I got on well with Richard because we shared a similar approach to detail and he and I always thought it worth going that extra mile with the sets whenever possible and often we tried to think of embellishments which would just give that nice touch.

I shall miss him in many ways except perhaps for his habit of eating fish straight from the tin at lunch. No-one will miss that…

Bob Hill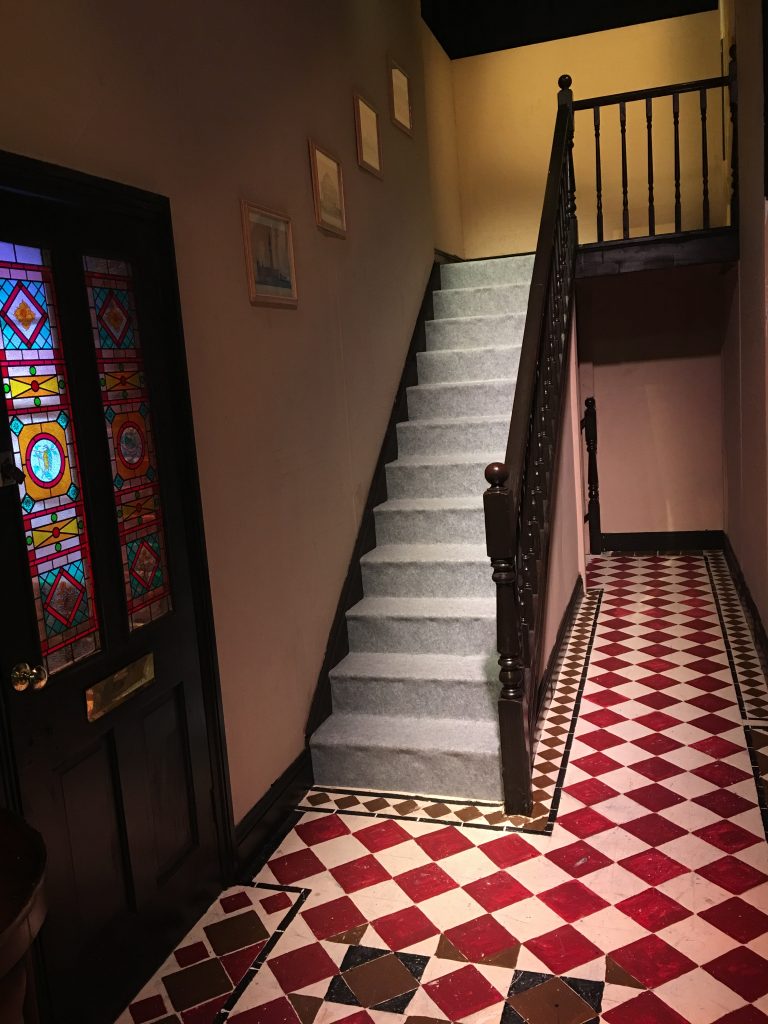 There were so many things we'll remember Richard for, as well as his artistic skills.
His blow by blow accounts of his kitchen refurb a couple of years ago – talked through all decisions in detail! Who knew there was so much to discuss about condensing washer/dryers.

His dedication to the floor effects and his eclectic choice of loud music to accompany his longs tasks (some floors took up to 15 hours to complete).

Richard was also a real chatter box but also a good listener, with an incredibly dry sense of humour and rarely unsmiling. And finally, he was so proud of his new paint room which he retitled The Paint Studio, going so far as to even paint the walls colourfully so it had real character.

Kevan & Sue Daykin
I was incredibly lucky to know Richard for many years, ever since joining WT in the Youth Group. He was always incredibly friendly, approachable, and when working with him on producing a set as a director, clearly very passionate about his work and making it the very best it could be.

His artistry when it came to painting the floors in particular, quite rightly, won huge praise, but seeing that same attention to detail go into every element of his design process was a true gift. Whether it was applying fake snow to the roof of an inn or adding in blackened marks above faux gas lamps, he had a real dedication to detail and research.

His regular amusing emails with updates helped ease what could sometimes be a stressful process, and especially as we'd already begun working together to design the set for Ladies in Lavender next January, I'll truly miss the opportunity to work alongside him again.

Thomas Joy
On behalf of all the members and patrons of WT, we send our love and best wishes to Richard's family and friends. He will be sorely missed.
– The WT Board