Q&A with 'The Government Inspector' director – Thomas Joy
The world-famous comedy The Government Inspector opens in December, and we caught up with director Thomas Joy to find out more about the show, how rehearsals have been going, and why the show is just as relevant in 2021 than it ever has been!
Tell us a little about The Government Inspector – what can audiences expect to see?
I think it's best to start by saying that above all, The Government Inspector is fun.
It's an absolute riot, filled with preposterous characters, silliness, and innuendo, it really is a comedy that caters for all. Set in a small provincial town 'in the back of beyond', the play centres around the mayor and his council of cronies, all of whom are completely corrupt and totally ill-suited to their positions. They receive news that an inspector is to visit their town, and mistake a penniless nobody (who just so happened to have arrived) for the inspector. This young man is a scoundrel, and absolutely makes the most of the situation, in more ways than one…
It's a great, fast-paced farce, all larger-than-life, and dare I say it, all just a little bit camp.
When it comes to the show, this isn't your first time involved, is it?
Indeed, no!
Back in 2010, Wokingham Youth Theatre staged a production directed by Fiona Rogers (who also happens to be in the cast in the upcoming production!). I had the great fortune to get to play the role of the Mayor and remember so vividly how much fun we had rehearsing and performing it. I fell in love with it then and have always wanted to go back to it and get to do it again, so when it came to submitting plays for this season, I took a chance and put it forward. David Stacey, our artistic director, loved it, too, and here we are!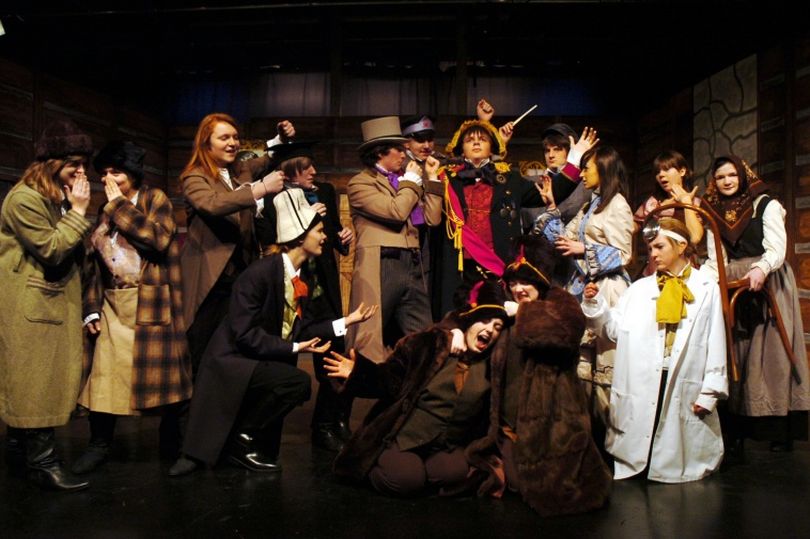 It's been such a treat to go back to the show and enjoy it all over again, I do feel very lucky.
The Government Inspector is a big show – how have you found it working as part of such a large production?
It is a big show indeed – we have a cast of 19 (playing about 30 different parts) over four acts, with costume changes, set changes, food, drink, and in one scene in particular, quite a bit of fake blood.
I have to say what a brilliant cast we have, with a great mix of familiar faces and new members who have all worked really hard on helping this show come to life.
I think when it comes to putting together such a large show, a significant part of is trust: trusting in the process that 'it'll all come together', trusting your actors and giving them the confidence to have fun with the parts, trusting in your backstage team and stage managers that once you've stepped away from directing, and the show is up and running, that it'll all run smoothly. Luckily, with such a fantastic cast and crew, trusting the process is a very easy thing to do.
The setting of this production is quite traditional – with the play being so relevant today, did you think about updating it at all?
I absolutely did, and I think if I were to direct it again, I'd love to try and update it to the present-day. Watching the now infamous Zoom of the Handforth Village Council meeting earlier this year does make you realise that small-town bureaucracy and 'politicking' is just as rife and absurd as it ever has been, and the less said about corruption in government in 2021, the better.
But that said, I think that the traditional setting of the story makes it easier to have fun with it, and make it that bit more… outrageous? There's very little subtlety when it comes to The Government Inspector, especially with Alastair Beaton's brilliantly witty, modern translation. And while the job of the theatre is sometimes to challenge and reflect society, I think after the past couple of years, what we all could do with is just a bit of good old fashioned escapism!
What have been some of your favourite moments in rehearsal?
For me, there are these little standout 'eureka' moments, often with just small little details, that have made me laugh so much over the past few months. I don't want to spoil anything, but some of the business that happens with a certain meal in the village inn, a tray of shaking glasses, handfuls of fish, and even some of the lines that aren't in English are, I think, a huge testament to the comedy talent we have on stage at WT.
The other favourite moment from recently is that first rehearsal where everything seems to just… click. We got to experience that earlier this week, and as our beautiful set goes up (my thanks to Richard Coleman and the whole team for their help), seeing this world come to life and be inhabited by these preposterous characters, it's such a joy.
Your cast and crew contain quite a few new members to WT! What would you say to anyone thinking of joining?
Do it. I'm very lucky to have started originally in the Youth Theatre (many moons ago) but have since found a bit of a home at WT. It's filled with some of the most generous, nice people you could hope to meet, and also, being involved with a theatre is such a sociable hobby! It's as though it's a bit of a loop-hole for adults to make new friends and talk to strangers.
Working on a show, or even just volunteering at WT, introduces you to people that you'd never have otherwise met, and especially if you're involved in a show, it can basically make your social plans for you! You find yourself working on a project together with people you've never met, with a pre-determined schedule that gets you in the same place at the same time – it's honestly one of the best ways I can think of to meet new people and just have an awful lot of fun. I couldn't recommend it more.
---
The Government Inspector runs from 8 – 18 December 2021 at Wokingham Theatre and tickets are on sale now.